Capture his eye in smoldering lingerie...or in nothing but the sheets. Be sultry or sweet as you sink into satin sheets, surrounded by pillows in our sexy bedroom set. This timeless, romantic look is perfect for sophisticated poses and classic lingerie & silhouettes that highlight your shape & curves.
SESSION INFO
What do you mean by "looks"?
---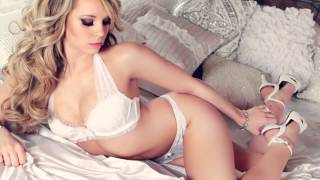 "Looks" are different outfit & set changes*. We dedicate 1/2 hour for each look - time is used for changing, pose variations and taking as many pictures as possible. The slideshow above shows just 6% of the images taken in this Allure shoot. There are more example slideshows in the pricing sections. We can play around a bit in each look - for example - let's say you are doing an "In the Sheets" look in one of our bedroom sets. You may choose to start out in lingerie for a couple poses, then do a few without a top - just "holding" - and maybe end with just the sheets. Once you complete your booking, we will send you a link to our Pre-Shoot Questionnaire to help us get to know you & discover your vision for the shoot...so we can create beautiful imagery that will leave you breathless! Not sure what you want to do for your looks? Don't worry about that! We have tons of ideas and love being "on-the-spot" creative. We will give you as much help as you want with set, outfit and look selections! If you'd like, you can bring any ideas from magazines or whatever you see, or email us if you find a cute pic online! *Sometimes you can even change outfits within a look, if time permits (usually with longer shoots).
---
How many "looks" should I book?
---
We consistently hear from our clients that they didn't realize they were going to love their shoot so much, and wished they would've booked more looks. (You can read about this in one of our client's own words HERE.) Once you get started with the photography part of the session, you will understand this for yourself! By the end of your first look, you start to feel more comfortable...and your inner bombshell starts to emerge! We've figured out how to best photograph you & you've figured out what we're looking for to get the best shots! The more looks you have...the more comfortable you are, and the sexier you feel...so we're able to get some amazing, more natural, super sexy shots. Having the extra variety with poses, sets and outfits is so wonderful...and the entire shoot is so much fun and very empowering, so we always encourage you to book as much time with us as your budget allows. This is a "once in a lifetime" experience for many of you, so we encourage you to go all out! You do get a better deal when you book the time in advance; however, if you are in the midst of a shoot & love it so much that you can't bear to stop, you may purchase a la carte looks for $125 per 1/2 hour (if our appointment availability permits). " Before my shoot, I was a nervous wreck. I wasn't sure how comfortable I was with my body. They did an amazing job making me comfortable. During my shoot, it felt like I was hanging out with a couple of friends. I did the 4 look session, and looking back, I should've done more, shoot! Next time ;)" Allison R - Feb 2018
---
How long will my photo shoot last?
---
BOUDOIR SESSIONS Plan for 1-1 1/2 hours for hair styling, makeup application and look & outfit selections and about 1/2 hour per "look" (which includes time for outfit change, posing variations, etc.). PINUP SESSIONS Plan for 2 hours for hair styling, makeup application and look & outfit selections and about 1/2 hour per "look" (which includes time for outfit change, posing variations, etc.). CHERRY ON TOP SESSIONS These are special shoots that allow for tons of creativity! Total time in studio is noted in description. CROWNING IMAGES SESSIONS Plan to be in the studio for 1 hour. We plan for 1/2 hour for makeup application and 1/2 hour for shooting. Adding hair styling or more shooting time (optional) will increase total studio time. All session lengths are approximate - total time depends on the team working with you.
---
This is for a special occasion - how far in advance should I book?
---
It takes about a week or two to get your proofs back from your session, and you'll probably want a week or so to choose your favorites and place your order. Since our products are custom tailored to be the perfect way to showcase your photographs, most orders are in your hands about 4-6 weeks from the day you place your order, so we recommend booking your session at least 8 weeks before your special event. (Whew! Did you get all that?) BUT DON'T WORRY - If you don't have quite enough time before your special event, we offer rush services & can get pictures to you in just a couple days...read more about that HERE.
---
Do you offer appointments on the weekends?
---
The studio is closed on Saturdays & Sundays, but based on our team's availability, we may be able to offer an occasional Saturday appointment as a convenience for those of you that can't make it during the week. Here are the conditions: Sessions are subject to a 15% up charge & session cost must be $425 or more to qualify. (For example, if your session cost is $425, there will be a $63.75 upcharge).

Due to high demand for Saturday appointments and limited availability, we do not offer appointments for discounted sessions on those days. Any current discounts or promotions can not be used toward previously booked sessions.
---
How does your pricing work?
---
Our pricing is two fold: First...the session fee: you pay for your time in the studio...which always includes hair & makeup - we use clip in hair extensions (at no extra charge) when wanted, false lashes and special makeup for photography. You can plan to be pampered in hair & makeup for about 1-2 hours (depending on session). We have thousands of outfits, shoes & accessories for you to choose from. We'll give you as much help as direction as you'd like when making selections. Then...we photograph you in your favorite "looks" - spending 1/2 hour with each, coaching & directing you the entire time. After your session...we will upload your proofs to our private online proofing site, so you will to go through your pictures & choose your favorites in the privacy of your own home. Once you've chosen your favorites...the second part of the pricing comes in to play. You can buy as little or as much as you want. We keep your photographs indefinitely, so there is NO TIME LIMIT on ordering, and no minimum order. We do have some sessions that are package deals & DO include product (such as our Cherry on Top Experiences) - you can check those out HERE. Check out our session pricing HERE & check out our product pricing HERE.
---
What about your sets & props?
---
Complete sets with props are so important for the feel of a photograph, and we have the biggest selection in the industry. Every piece of furniture, prop and set is hand-picked and designed for our photography styles. Our adorable studio features more than 20 amazing sets and countless props: from the bedroom ...to the kitchen ...to the locker room ...to the garage ...and everything in between! Our galleries have for tons of pictures from each set, so definitely check that out for lots of ideas & inspiration! Click the picture above to see pictures of our studio.
---
Where is your studio located?
---
Our address is: 505 1st Avenue NE Third Floor Minneapolis, MN 55413. Our adorable 5,000 square foot studio features more than 20 amazing sets and countless props. We are proud to offer the biggest selection of sets and props in the industry. Before your session, our waiting room is open & stocked with water, coffee and other treats for you! A Victoria's Secret inspired dressing room and bathroom will be your private area during your session. It's stocked with all sorts of complimentary "She-mergency" items...including deodorant, makeup remover, femine hygiene products, pain reliever, toothpaste and much more! Our glam room is the perfect place to get your hair & makeup done... with professional salon chairs, and benches for your guests. You can view thousands of pieces of lingerie, shoes and more right from your chair! Our business office is also on site for your convenience. We've had lots of people travel from different states: Hawaii, Arizona, California, South Carolina and more (not to mention neighboring states), so we'd love to have you come, too! The closest airport is MSP. We are less than 10 miles from the airport. We can help you with hotel accomodations and more if you are planning to travel. Click the picture above to see pictures of our studio.
---
Why should I choose Sugar & Spice Photography?
---
OUR FAVORITE QUESTION! We want you to be 100% sure you are choosing the right team for your photo shoot. There's a reason we've had the honor of shooting many local celebrities - from radio personalities to TV producers...and why so many of our clients drive for hours to get to us or even fly in from out of state. We've dedicated an entire page for the answer to this question. Check out our WHY CHOOSE US page! These photographs will leave you (and your sweetie!) breathless...but it's not just about taking a pretty picture....it's the experience & what you take away from it. Quit thinking that you'll never look "like that". We wear many hats as women & make so many sacrifices. We are all too often our own worst critic, and as women, we know how we can be! Take away an awesome experience, and amazing photographs that will remind yourself that you are a beautiful, courageous, strong woman! It is truly one of the most amazing, empowering and fun experiences you will ever have.
---
---