Nerves, Curves & Other Concerns
I'm so nervous! Can you calm my nerves?
---
Everyone on our team has been on the other side of the camera...insecure, unsure & nervous of how we would photograph. Then, we really started having fun (we truly believe there's a little bit of supermodel in every woman!) and were ecstatic when we saw the end result. We do our best to make you feel comfortable because we know that it can be intimidating. Our clients leave the studio saying, "I can't wait to do this again!", and are excited to share this amazing experience with you! We can't wait to transform you into a glamorous, sexy version of yourself by pampering you with model treatment! We wouldn't be lucky enough to do what we do without our gorgeous, amazing, fun clients! We are honored to have the opportunity to photograph women of ALL shapes, sizes & ages, from all walks of life... and finding the unique thing that makes you most beautiful...is the BEST part of our job.
---
Will you help & coach me?
---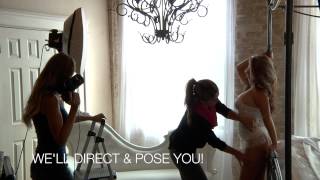 We will be coaching you, directing you and posing you the entire time. We will lovingly call you our "Barbie". The better & faster you respond to our cues, the better results we get. We work as a team of two - so one of us can focus on all the little details that make the photograph perfect, and one of us can take the pictures. This way, we are able to take more shots than most photographers. More shots + attention to detail = amazing results. The video above shows how we are working with you during the entire experience!
---
What if I want to lose a few pounds or have some body issues?
---
Don't worry...WE GET IT! If you think the women on our site look like models (our clients will be so happy to hear that!)....that means we're great at what we do! Our clients are regular women...wives, mothers, new brides and business women - with the same issues we all deal with! We understand the desire to look absolutely SMOKIN' hot for your photographs, and we know all the tricks to hide the things you want hidden & to highlight your best features. We will pose, light, and style you to flatter YOUR figure and celebrate who YOU are so that retouching is minimal – not mold and change you into what our culture is teaching us ladies we need to be. So...trust us, you don't need to worry about looking perfect or losing those extra pounds. It's our job to make you look spectacular...and we know exactly how to do it. And...don't forget...body shaping, contouring & more is INCLUDED with our products. Read more about that in our FAQ section under Ordering & Retouching. Click the picture above to see body before & after retouching examples.
---
I'm a curvy girl...can you accommodate me?
---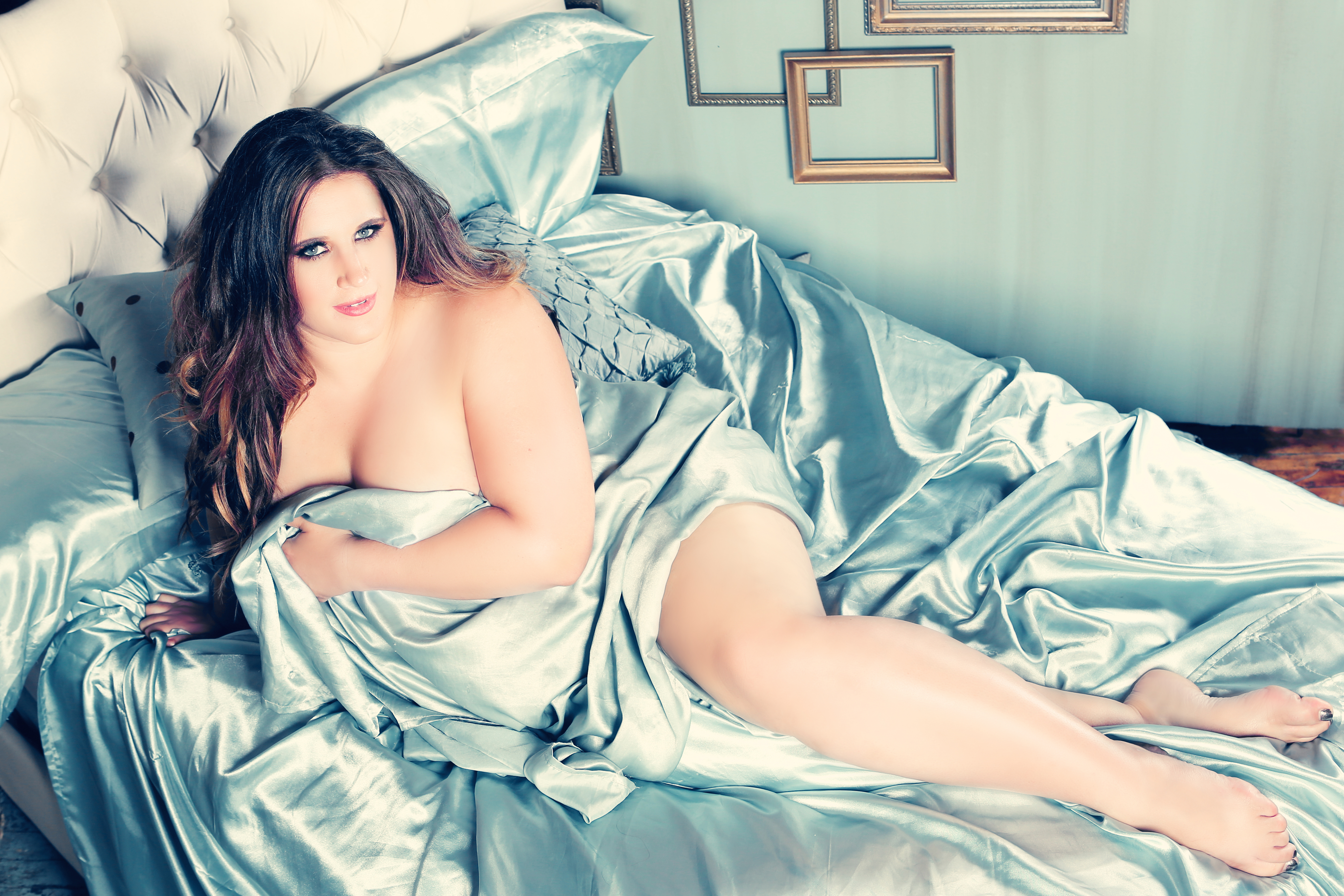 We have had the privilege of shooting hundreds of curvy women sizes 18-26. We think this BLOG post from Colleen Lindstrom (radio personality from FM107.1) about her experience with Sugar & Spice Photography will inspire you! Get the tissues ready and read her story HERE. It was from our very first studio in 2006, but her words still make us cry! We PROMISE you will LOVE your photographs and your entire experience! We have thousands of raves from women that had the same concerns as you - many which are on our website for you to read, that walked away feeling and looking beautiful, empowered and sexy….and you will too! We have tons of outfit options that we know you'll love and will be flattering, so don't worry about that! But remember...you are always welcome to bring your own things that you love and that you know fit you well. You can also come visit us for a tour of the studio, so you can meet us and check out our sets, shoes and accessories and more (and see all the great lingerie we have available in your size)! Side note: in our galleries, it is so hard to really tell how "curvy" someone really is because of the outfits, posing & retouching tricks! We do a lot of body contouring, shaping and shading, and some wanted to be retouched quite a bit slimmer than others. Click the picture to see our gallery dedicated to our voluptuous, curvy clients.
---
Do you photograph older women?
---
YES! We have had the honor of photographing hundreds of women ages 55 & older, and absolutely would LOVE the chance to take beautiful, sexy and classy pictures of you! Be more natural, or go all out! Chose to have regular hair styling for a more natural look, or we can add extensions for more of a fantasy look. In post production, we can smooth your skin as much as little as you'd like! Click the picture to see our gallery dedicated to our clients who were age 55+ at the time of their shoot.
---
What should I expect the day of my shoot?
---
After a tour of our adorable studio, you'll be whisked into hair & makeup. During this pampering process, we'll get to know each other, find out what ideas you have for your shoot, and discover what you are looking for in your pictures. We'll have fun working together to select sets, outfits and props that will help achieve your vision. Then, we move on to the BEST PART - your time in front of the camera!
---
Will my session be private?
---
Absolutely! We generally work as a team of two, so we can give you our undivided attention and focus on & pamper you! ONLY members of our team are with your during your time in front of the camera. Our Glam Area is a private area where another client may be getting their hair & makeup done by another team member. We do our best to keep your time in front of the camera completely private; however, although rarely, we may need to briefly escort another client through to our waiting room. If we happen to be shooting in that area, we will make sure that you are covered & comfortable before walking anyone through.
---
Can I come visit your studio & meet you?
---
ABSOLUTELY! We would LOVE to meet you and show you around our gorgeous studio. You can meet the team, browse through outfits, see the set firsthand, check out products & more! CONTACT US to set something up!
---
I want some sexy shots, but not nude...is that OK?
---
Know that we respect your boundaries. Your time with us is not about what we want...it's all about you, and what you are comfortable with. We never want you to feel any pressure to reveal any more than you want to, but keep in mind that you might change your mind once you're feeling at ease in the studio. We do, however, like to keep our photographs beautiful and classy, and prefer "implied nudity" or the illusion of nudity, so we won't ever expose any lower lady bits. Depending on your situation and the team you are working with, we may be able to do some topless shots for married women.
---
Can I pose erotically or with sex toys?
---
We keep our photography very classic, so please do not bring sex toys with you - we will not use them in your photographs. Also, implied sex and erotic poses are not allowable at any time. If you have a special request, please contact us & we will let you know if we can accommodate you!
---
Will you use my pictures?
---
The vast majority of our clients are thrilled when we choose to use their photographs, but we definitely understand that there are some circumstances in which people do not want their images used, and we are always happy to honor those requests. Whatever you decide, we've found that having you fill out our Use of Photographs online form is the best way for us to manage your request. Please understand if the form is not completed before the session or during the initial proofing period, as copyright owners of the images and per your acceptance of our Terms & Conditions with your booking, your images may be used for promotional purposes. Please click HERE to complete our Use of Photographs form.
---
---